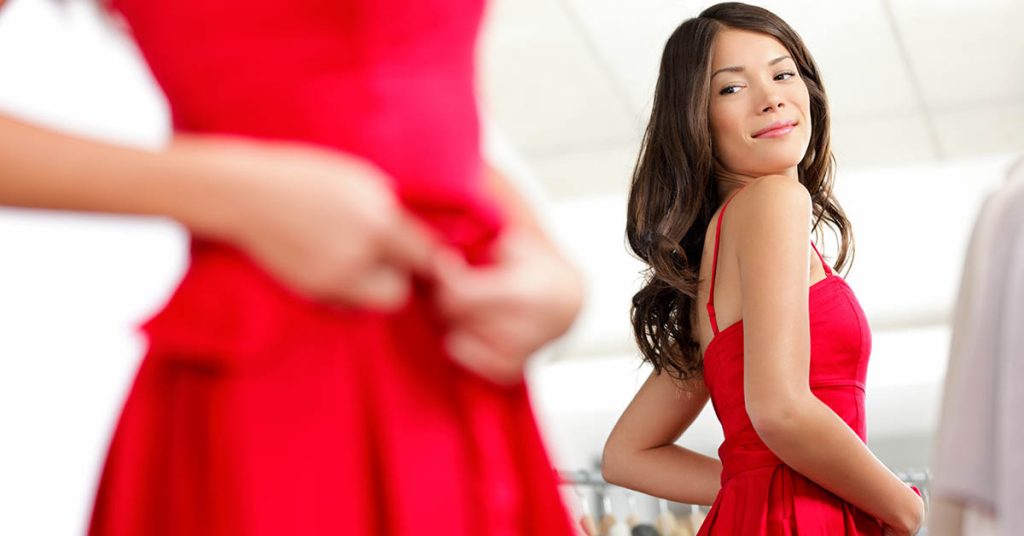 Being able to identify your body shape is the first step to finding the most flattering fit in a dress. Style is not all about sporting the trendiest outfits; it's about highlighting the best features on your body. Flatting your body shape can elevate the look of any wardrobe. To crown the quest to find the most flattering dress this season with success, we have put together this guide that will take you by the hand and help you shop for that dreamy dress!
Body Types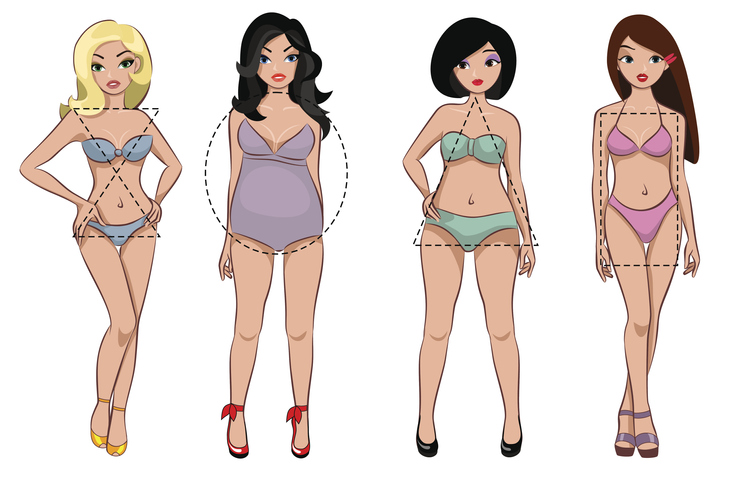 The four body types we will predominantly be addressing are:
Hourglass
Pear (or triangle)
Athletic
Round
Follow the above chart to determine which body type you are.
1. Hourglass
Your Body: Hourglass figures are curvy with proportionate hips and bust. Individuals with this body type have an upper body that is considered "balanced" with their leg length. Hourglass figures also have well-defined waists, and this asset should be accentuated! 
Best Dresses for You: Look for dresses that have:
V-necklines

Open necklines

Cinched-in waistlines

Form-fitting tops
Wrap dresses with belted waists are also a great option for hourglass figures!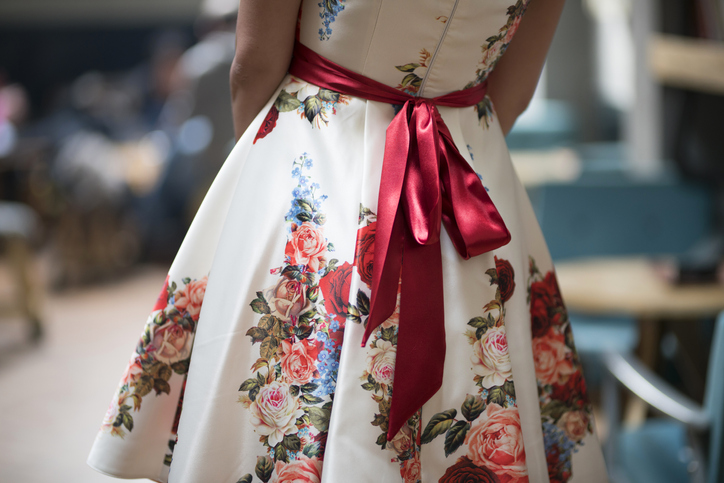 What NOT to Wear:
Baby doll dresses
Shapeless styles
Empire waist styles
Oversized dresses
2. Pear (or Triangle)
Your Body: Girls with a triangle body type typically have a thinner upper body and larger hips and thighs. To appear more balanced and proportionate, triangle body types should opt for dresses that add more volume to their upper half.
Best Dresses for You: Any dress with a:
Strapless top

A fitted open neck

A

 V-neckline

A-line or full skirt (these will help hide a wider hip)
Dresses with details in the bust area will help create a balancing effect. Keep in mind that if you pick a dress that's fitted on the hips, you will probably have to go a size up and take the garment to a seamstress to alter the waist. In short, you will look fab in flare and fit dresses as they are roomier from the waist down and add volume to your small upper body and thin waist!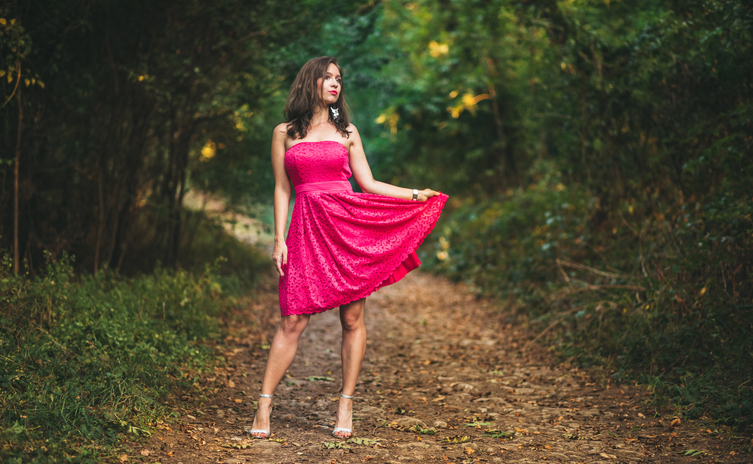 What NOT to Wear:
Oversized/shapeless styles
Full poofy skirts
Super-short hemlines
Curve-hugging fabrics.
3. Athletic 
Your Body: If you have an athletic body, your silhouette is slightly more narrow in the hips than in the shoulders. Athletic body types also tend to have waists that are not well-defined and broader shoulders. The key with this body type is to balance your upper body with your narrower lower body. In other words, you want to try and give your figure more of an hourglass effect.  
Best Dresses for You: Any dress that will balance the upper body and fill your slight hips, such as dresses with:
Embellishment

R

uffles

Any other volume-increasing details.
A-lines and lower waistlines are very flattering. In general, dresses that slightly flare out are ideal for you as they help balance out broad shoulders!
For athletic body types with bigger busts, thick straps, halter tops, dresses with ruching and draping, U-necklines, and V-necklines will all help play up the curves of your body and make your bust look its best! If you want to give your body a more feminine shape, pick out a dress with a cinched midsection.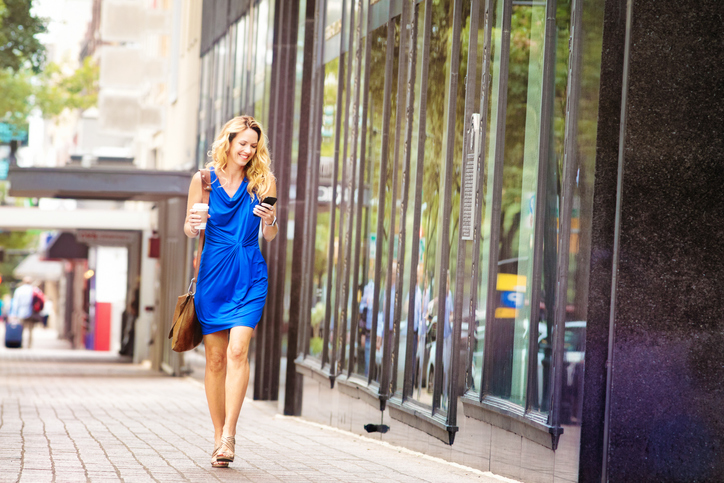 What NOT to Wear: Hemlines that are too short will make your top look heavier than it actually is, so stay far away. Strapless dresses and dresses that don't have enough support (i.e. spaghetti straps) are best avoided if you are athletic with a bigger bust. The same applies to fabrics that are stretchy through the torso, as well as dresses with details/shirring/ruffles on the bust.
4. Apple (or Round)
Your Body: Women with apple body types carry their weight in their midsection and usually have a shorter, undefined waist, and slim legs. Apple body types also tend to have flatter bottoms. 
Best Dresses for You: Any dress that draws attention to your upper body is a good option. Belted styles, drop-waist dresses, swing dresses, dresses with an embellished top or an empire waist all fit this criterion. A-line dresses, wrap dresses, and dresses with full skirts are also great options, as they help conceal the midsection. A major asset of apple body types is their legs, so feel free to flaunt them in shorter dresses!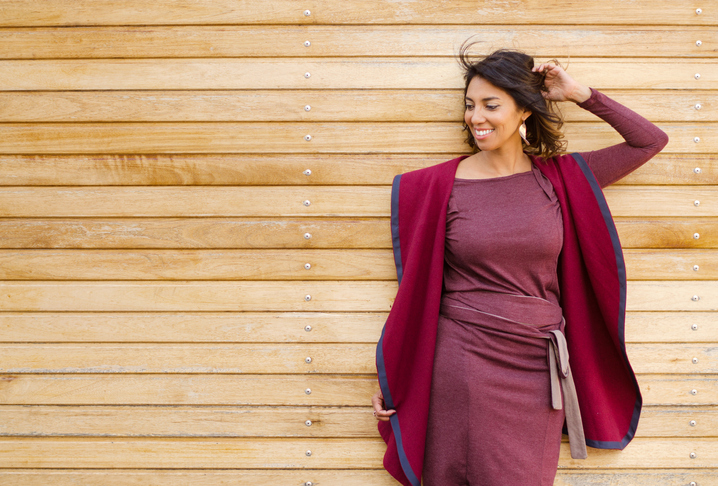 What NOT to Wear: Anything that turns the eye to your midsection, such as:
Horizontal lines
Natural waistlines
Fitted tops
5. Petite
Some styling experts also create a separate category for petite women (shorter than 5 ft 3inches) with a slender body type. For these women, they suggest wearing fitted dresses to accentuate their lean physique and dresses with a belt around the waist to help create a more flattering shape. Short dresses that allow you to show a little leg can go a long way, and an asymmetrical hemline can help you look taller. Finally, slim-fitting dresses with pleating or vertical prints and a V-neckline will help elongate your silhouette.